WEEKLY SPECIALS


1-Pound Jars of Bullseye Frit
Stock-up savings on all the colors you want the most! Take advantage and get those colors you've been wishing for, or replenish the ones you use all the time. THE MORE YOU BUY, THE MORE YOU SAVE!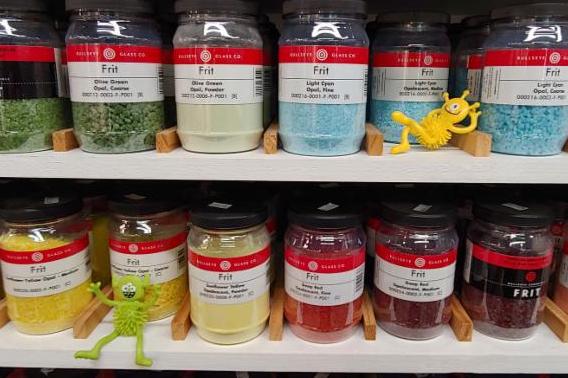 FuseMaster EZ Fire Paints
Buy One, Get One HALF PRICE
With a wide variety of colors from reds, yellows, blues, and everything in between, these high-temperature paints can withstand temperatures up to 1650F, and require no ventilation or special firing schedules. Just add your enamel designs to any base glass and pop them in the kiln. They can be mixed with the medium of your choice, and can be brushed, silkscreen printed, stippled or airbrushed onto your glass. They can be used with any COE you like as well!
COLORS AVAILABLE:

All are 1 ounce jars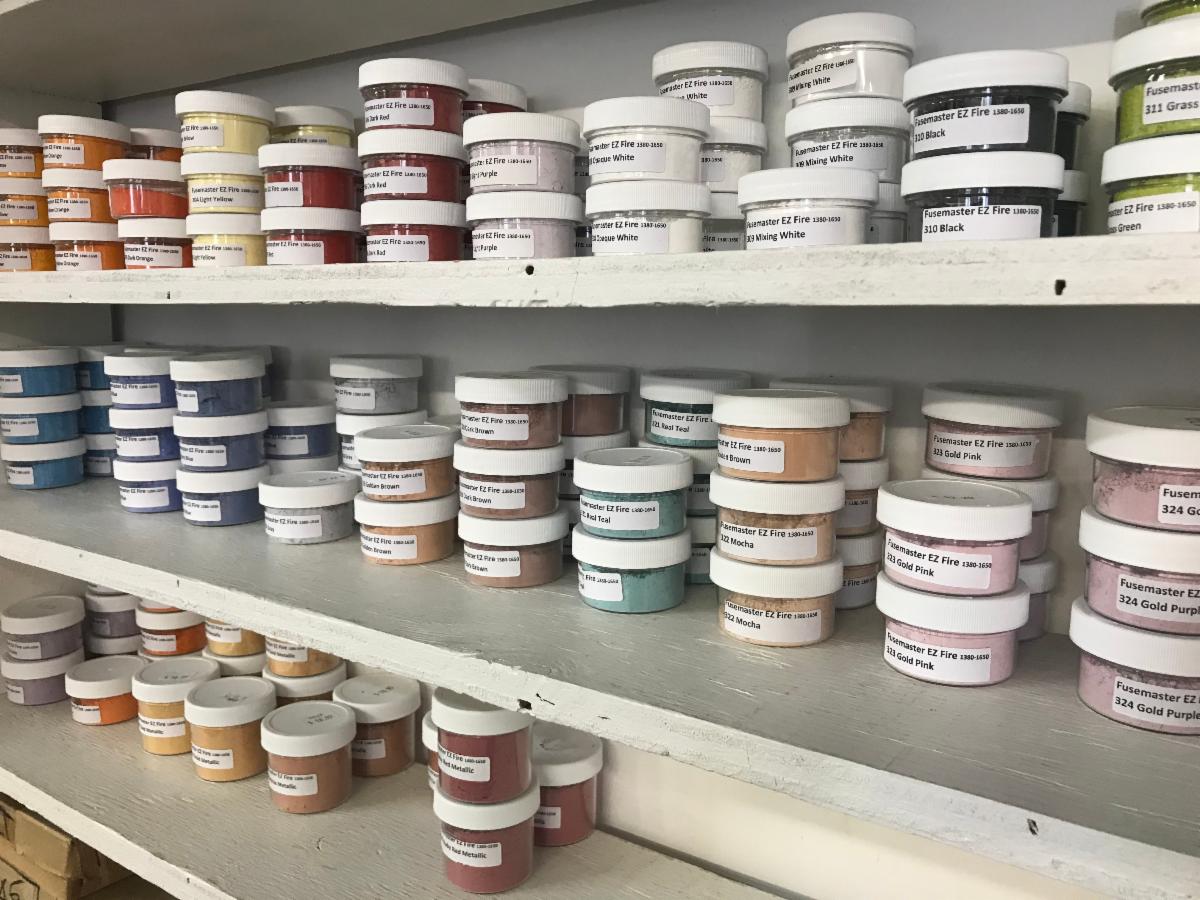 Our favorite surface cleaners are on sale!
FREE bottle of hand sanitizer
From the manufacturers of the amazing Clean Shield Gel used in our studio, we have two great disinfectants that we've been using to keep the shop clean and sanitized.

Invisible Shield Multi-Surface Formula

Sani-Shield 3-in-1 Surface Formula

Unelko's products clean with the power of hydrogen peroxide and provides antimicrobial, water, soil & stain resistant barrier coating on all horizontal and vertical surfaces.
Buy One, Get One Half Price!
Stock-up savings! Mix 'n' match styles.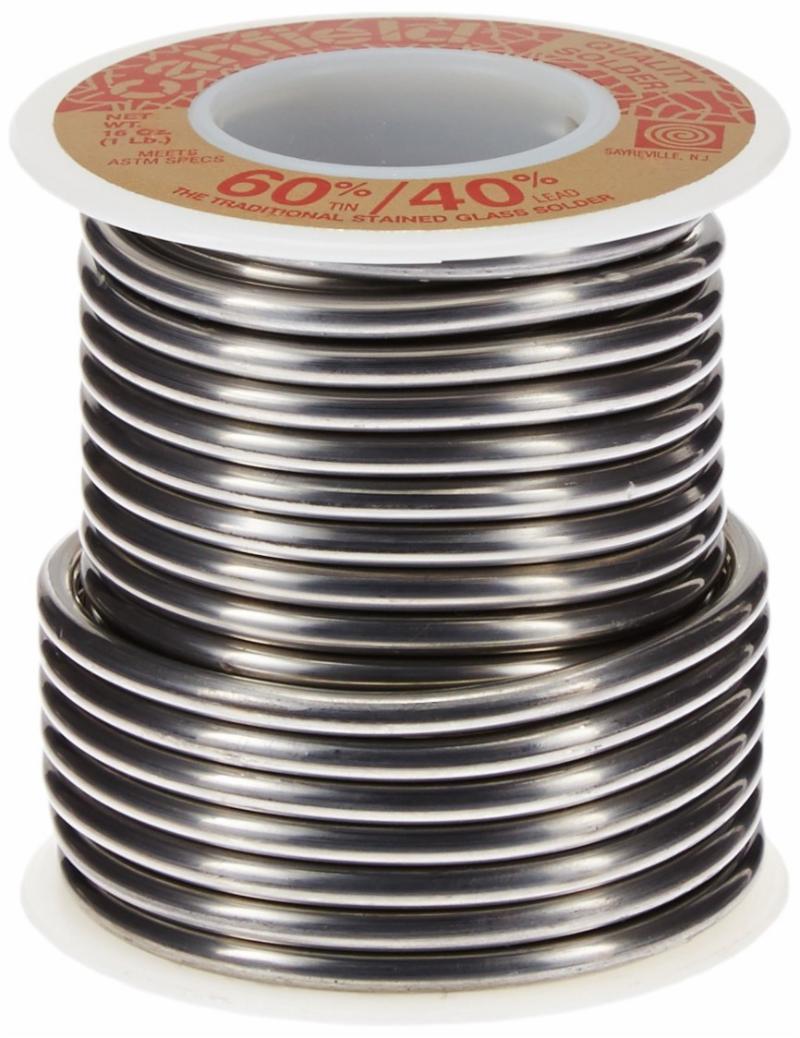 Select Colors of Bullseye 5"x10" Sheets
Overstock- WHILE SUPPLIES LAST!
0161 Robin's Egg Blue Opal
How about a great deal delivered to your door! We don't want you to be at home with no glass, so we worked with Bullseye to make these specials available for our customers.
Get yours now- limited availability!
As you may have heard, Bullseye Glass has had to temporarily shut down production due to safety concerns for their employees. While their sales and shipping departments have been trimmed down, they are still currently open at least until they get word to close.
These are great deals to help keep you creative while you have time in your studios; place your order with us and it will be sent direct to your door from Bullseye Glass!
WE'RE
PAYING
THE
SHIPPING
*,
SO THAT SAVES YOU BIG $$$
*Continental 48 states only; other restrictions may apply. Call or email for details.
LIST PRICE: $625.50 + shipping
An estimated savings of $290.00 off regular pricing!
A fantastic way to restock or build your fusing palette!
A colorful assortment of Bullseye Compatible 90 COE transparent, opalescent, iridescent, and clear glasses, individually marked for easy reference. May also include some fusible Curious styles.
Includes approximately 45 pieces 10" x 10"; or 38 pieces 5" x 10" plus 25 pieces 10" x 10". About 45 lbs of glass!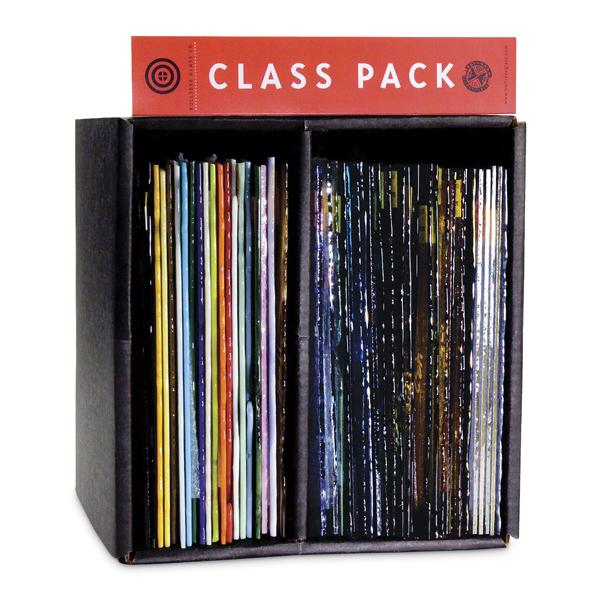 LIST PRICE: $553.40 + shipping
An estimated savings of $240.00 off regular pricing!
Tekta clear in a variety of styles; great for stock-up, testing, and samples!
A selection of 10" x 10" sheets of Tekta Clear in a variety of thicknesses: (30) of 3 mm, (8) of 4 mm, and (4) of 6 mm.
Trimmed on all sides, uniform and lead-free. About 45 lbs / 30 sq f of glass.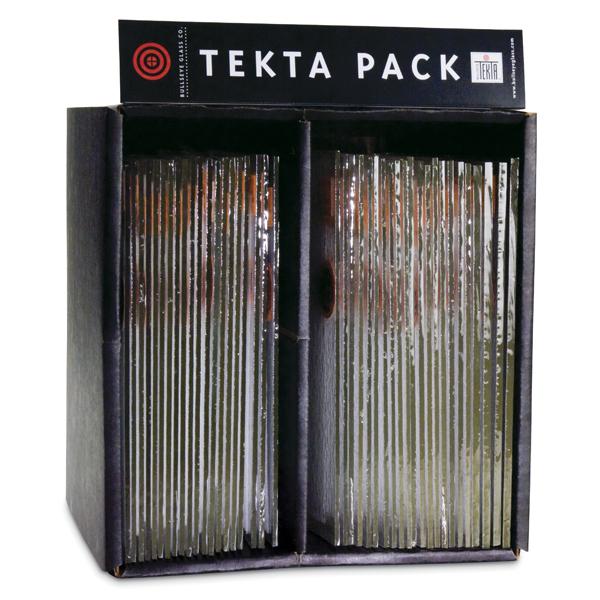 Bullseye Painting with Glass Pack
LIST PRICE: $176.50 + shipping
An estimated savings of $55.00 off regular pricing!
A great way to experiment with powder and perfect for batik technique, powder drawing, stencils and much more!
Eight 5 oz jars of colored powders; one 1 lb jar of black powder; three jars of clear frits in fine, medium, and coarse grains; and an assortment of colored stringers are the basics. Four stencils, two powder sifters, a frit sifter, sgraffito tool, GlasTac Gel, and Bullseye's TipSheet 4: Designing Your Own Art Glass. (Sheet glass sold separately.)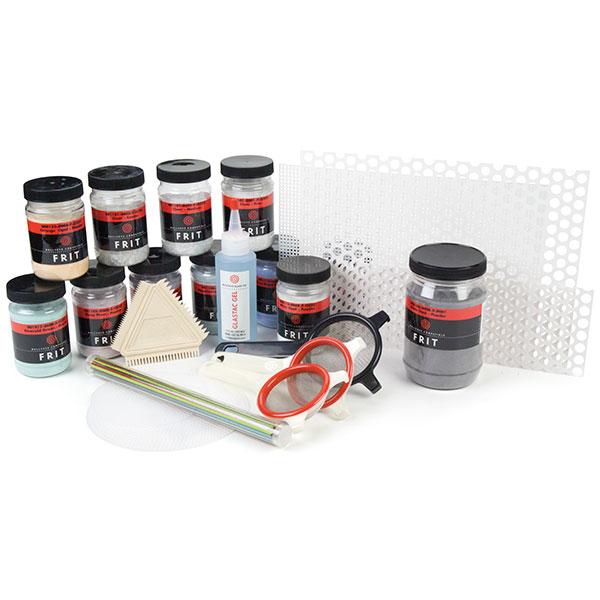 Bullseye Studio Fuser Pack
LIST PRICE: $480.25 + shipping
An estimated savings of $165.00 off regular pricing!
Perfect for studio play! Got kids or other family at home? Introduce them to kilnformed glass!
A sampler of time-tested favorites!
Approximately 20 colors of 3 mm and 2 mm fusible sheet glass (9 sq ft), 10 tubes of frit, 5 bags of confetti and 4 tubes of assorted stringers. Ideal for experimentation or jewelry projects. May include some fusible Curious styles.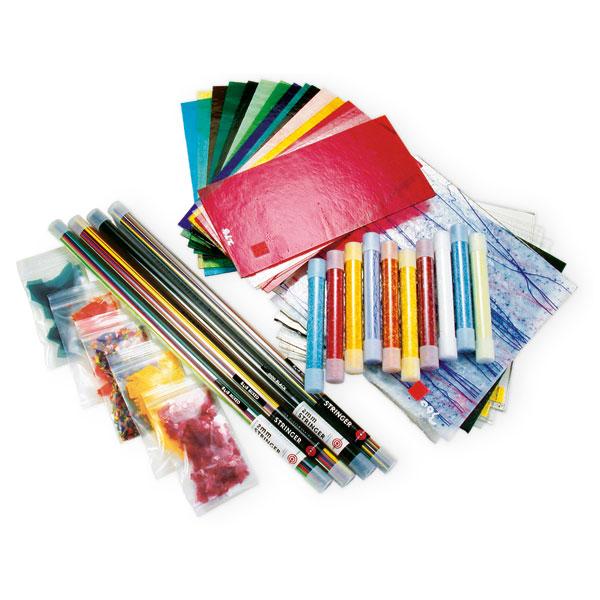 Bullseye One-of-Each Rod Pack
LIST PRICE: $266.70 + shipping
An estimated savings of $95.00 off regular pricing!
Perfect for test pieces, and coordinating with your Bullseye sheet glass.
One rod of nearly every standard style made, as listed in the Bullseye catalog; ideal for designer prototyping.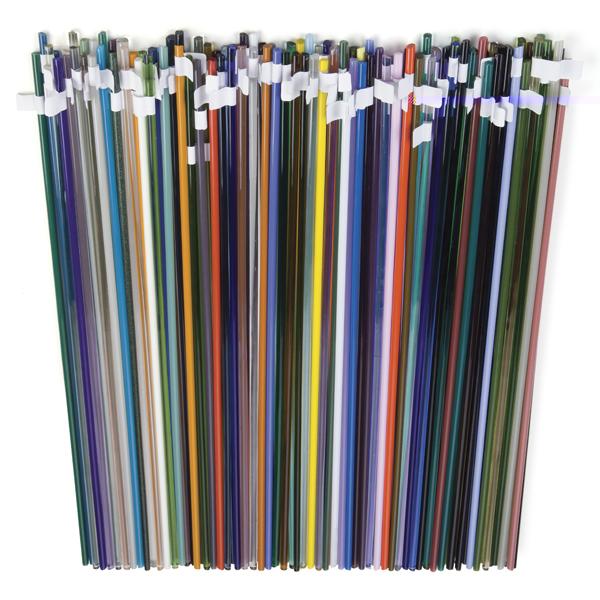 LIST PRICE: $197.15 + shipping
An estimated savings of $70.00 off regular pricing!
Great assorted selection for fusers, torchworkers, mosaic artists, and more. Make your own dots, too!
A 5-pound assortment of opalescent and transparent rods in 17" lengths.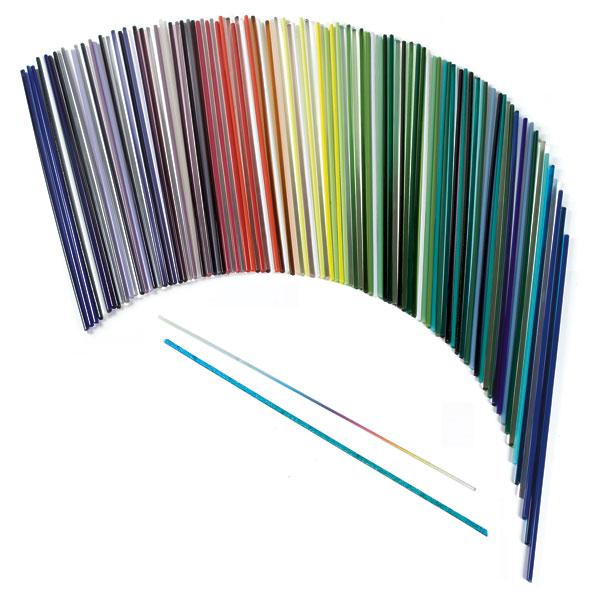 Be sure to sign for our mailing list to receive weekly updates, sale info, news, and coupons!