In August 2022, Weisser Glass Studio had the unique experience of working with with HGTV's designer Alison Victoria on the hit show Ugliest House in America, to design and create a custom stained glass panel to be featured in the Season 3 finale's home makeover.
Alison looked for expert advice on how they could create an entryway piece in stained glass for the winners, featuring their family monogram. (If you've seen Alison's series Windy City Rehab you know how much she likes stained glass!). Her vision was to replace the less-than-perfect stained glass in place with something special that would mean a lot to the family and be a showpiece for their newly-renovated home.

Working under a very tight production schedule, the HGTV team relied on the expertise of the Weisser team to execute the design and fabrication of the panel flawlessly, in time for the reveal. Working with Alison and Retta, we were able to guide them towards the color choices and design highlights that would make this panel the centerpiece that Alison was envisioning for the project.
The panel features clean lines and a timeless design aesthetic. The time crunch was real, and we wanted to implement Alison's vision as cleanly and as professionally as possible. Because of the size of the panel, we opted to use internal reinforcing, selecting zinc came for the interior fabrication. With skill and experience we were able to form the rigid metal into perfectly fitted forms using a came bender designed for making circles out of zinc. The result is a beautiful, airy panel that complements the family's newly-renovated home without competing.
After design and fabrication, it was on to the finishing processes of putty, patina, and polish. Our special project was delivered on time to the job site, leaving it in the hands of onsite project manager, Ian FItzGibbons, for final installation!
Weisser Glass Studio was invited by HGTV's hit show, Ugliest House in America, to fabricate a custom stained-glass window for their big Season 3 finale makeover reveal!
We had great time working with comedian Retta and home renovation expert Alison Victoria to create a custom stained-glass panel to crown the newly renovated home in Manassas, Virginia.
Watch the entire transformation from eyesore to elegant on Season 3, Episode 6 of Ugliest House in America on HGTV!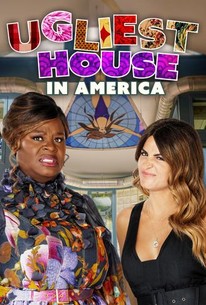 Check your local HGTV listing for air times!
​​​​​​​